Looker Studio /Google Data Studio Complete Advanced Tutorial
Learn the best Cloud based BI tool – Looker Studio / Google Data Studio – & Create Exceptional Reports in minutes !
Language: english
Note: 4.4/5 (525 notes) 75,929 students
Instructor(s): Prince Patni
Last update: 2022-09-06
What you'll learn
Know about Google Data Studio as an Enterprise Level BI tool
Learn how to use Google Data Studio to create Interactive and Beautiful Dashboards
Practice along how to connect to various Data Sources with Live Examples
All the Chart Types in Google Data Studio like Bar, Time Series, Geo Maps, Scatter Plots etc and how to configure each of them
Sharing Reports as is, as Customized bookmarks or as Templates
Embedding external content like Websites in your Report, and also embedding your report in your Website with Live Example.
Add Action Controls like Dropdowns, Sliders and other Filter controls in your report to add user interactivity
How to Blend data from different Tables to bring together to create one report
Create Tricky Calculated Fields and Parameters
Advanced Features like REGEX(Regular Expressions), Filter by Email, Parameters, Report Publishing etc
Using Community Visualizations and Built in Templates to get your working report ready quickly.
Best Chart Practices to create useful, interactive, feature-rich and beautiful Reports.
Requirements
This is a Beginner friendly course so you can start learning Google Data Studio without any prior knowledge, and without any coding expertise. You just need a Computer with Internet Connectivity.
Description
This 11 hour long, very comprehensive and detailed Looker Studio / Google Data Studio course will help you to become a Data Visualization Expert and will enhance your skills by offering you comprehensive knowledge, and the required hands-on experience on this widely used Cloud based BI tool, by solving real-time industry-based projects.

Top Reasons why you should learn Looker Studio / Google Data Studio :
Looker Studio / Google data Studio is the #1 cloud based Free Business Intelligence tool used industry wide.

The demand for BI professionals is on the rise. This is one of the most sought-after profession currently in the lines of Data Science.

There are multiple opportunities across the Globe for everyone with this skill.

Looker Studio / Google Data Studio has a small learning curve and you can pick up even advanced concepts very quickly.

There is no Trail or Paid version of this tool. It is absolutely free and available for everyone.

You do not need high configuration computer to learn this BI tool. All you need is any system with internet connectivity.
Top Reasons why you should choose this Course :
This course is designed keeping in mind the students from all backgrounds – hence we cover everything from basics, and gradually progress towards advanced topics.

Actual Case Studies and Live Examples of all topics.

Downloadable datasets to practice along.

Links to all LS/GDS active Communities.

All Doubts will be answered.

New content added regularly and useful educational emails are sent to all students.
Most Importantly, Guidance is offered beyond the Tool – You will not only learn the Software, but important Dashboard Design principles. Also, I will share a cheat sheet to quickly find the right chart to use, sources to get public datasets to work on, Getting inspirational ideas, How to make money by using your Looker Studio / Google Data Studio Expertise, and even about a Free Google Certification you can obtain.
A Verifiable Certificate of Completion is presented to all students who undertake this Looker Studio / Google Data Studio course.
Who this course is for
Business Intelligence Enthusiasts want to learn Google Data Studio
Any Individuals or Organizations having their own website
Working Professionals looking to learn a new powerful tool for Dashboard Development and Data Visualization
Students who want to enter the field of Data Analytics or Business Intelligence
Course content
Introduction

Welcome
What is Google Data Studio ?
Benefits and Limitations of Google Data Studio
Learning Objectives
Resources

Getting Started

Signing up for Google Data Studio
GDS Glossary
GDS Home Page Interface Walkthrough

Connecting to Data Sources

Connecting to a Data Source – CSV, Google Sheets etc
Data Modeling – Understanding Dimensions & Metrics
Data Source Editor Window Interface Walkthrough
Data Transformations
Embedded and Reusable Data Sources
Manage Data Freshness
Performing Data Union in GDS
Data Blending Process in GDS – Equivalent to JOINs
Sources to get Public Datasets

Introducing Report Canvas

Report Editor Interface Walkthrough

Creating and Configuring Various Chart Types

Creating Charts – Table Visualization
Other Variations of Table Visualizations
Scorecards
Timeseries Chart
Bar Charts
Pie and Donut Charts
Google Maps Chart
Google Maps Chart Limitations
Geography Chart
Line Charts
Diff between Line chart & Timeseries charts
Area Chart
Scatter Plot
Pivot Tables
Bullet Chart
Treemap Charts
Gauge Chart
Adding Community Visualizations

Adding Controls to GDS Reports

Introduction to Adding controls in GDS Reports
List Box Controls
Input Box
Slider & Checkbox
Date & Data Control

Creating effective & Powerful Google Data Studio Reports

Creating Groups of Components
Order & Arrangement of Components
Adding and Managing Pages
Sections & Dividers
Managing Page Navigation
Copying Chart Formatting
Creating Page level & Report Level Components
Adding & Managing Bookmarks
Embedding Items to your GDS Reports
Embed a GDS Report in your Website
Adding Images, text, Shapes and lines
Adding and Managing Filters in GDS
Using and Creating GDS Templates
Creating Thumbnail of your GDS Reports

Using the new 'Explorer' Feature
Sharing Reports

How to Share your Reports
Presenting your GDS Report

Troubleshooting and Getting Help

Getting Help
Troubleshooting – Missing Data

Advanced GDS Topics

Tips for Improving Performance
Using Filter by Email option for Security Purposes
Understanding Regular Expressions REGEX
REGEX Demo
Data Segments in Google Analytics Property
Report Publishing Concept in GDS
Using Parameters in GDS

Best Practices to create Reports in Data Studio

Charting Best Practices
How to choose the right Visualization?
Tips to create an effective Report

Congratulations – Summary & Next Steps

Summary of Steps to create your GDS Report
Next Steps
Congratulations !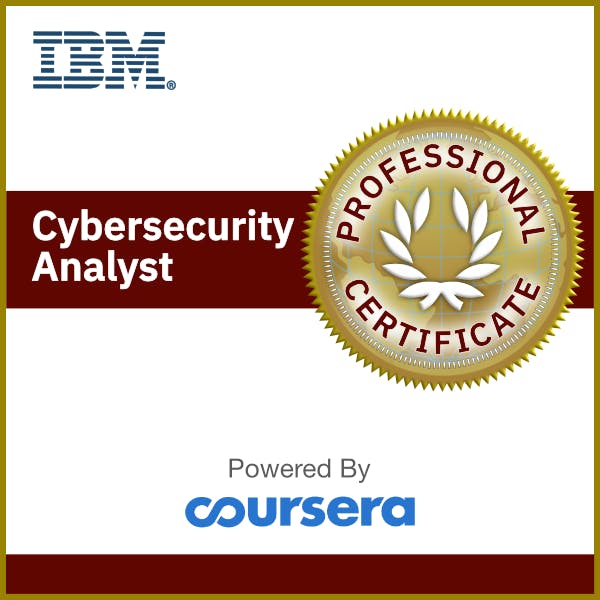 IBM Cybersecurity Analyst [Coursera with IBM]
Time remaining or 590 enrolls left
Udemy Coupon Code 100% off | Udemy Free Course | Udemy offer | Course with certificate